MainFitness offers a range of classes to cater for all fitness levels.
Being a small community minded gym, our Group Fitness Trainers who instruct the classes become familiar with our regular class participants and learn many of your strengths and weaknesses.
If you are new to MainFitness please come and try a class, meet the class instructors and feel free to make them aware of your fitness abilities and they will be more than happy to assist all beginners with any modified exercises to make sure all class participants get a great workout, but at a manageable level.
Our class numbers are small with most averaging between 4-8 participants and our larger class sizes only reaching 12-14 participants.
No bookings required. Classes may change or be cancelled at any time, always refer to MainFitness' Facebook page for regular updates.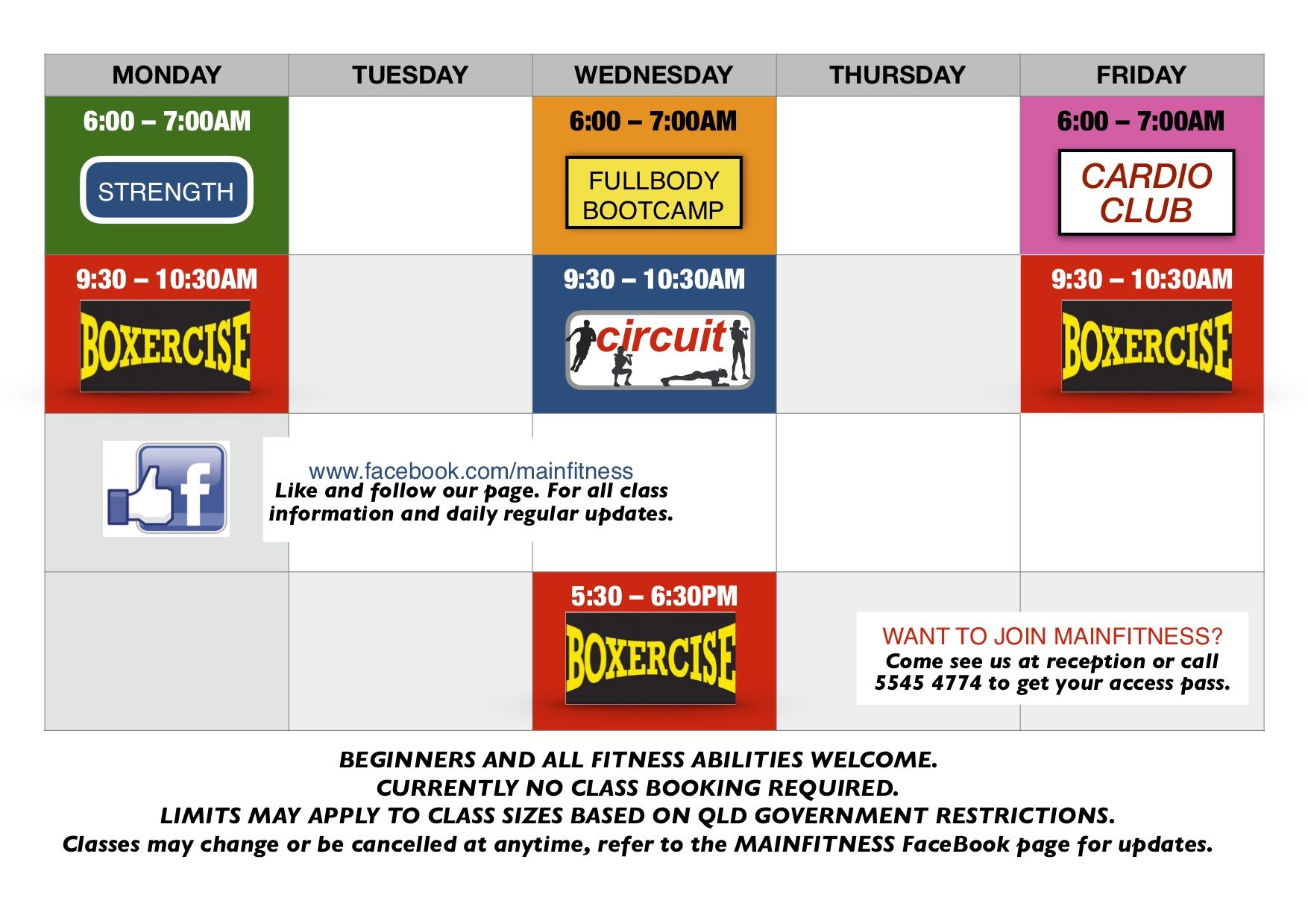 Indoor Bootcamp
This class is targeted at customers looking for all-round fitness, strength and toning. The class improves functional strength, aerobic capacity, power and flexibility through a mixture of high intensity interval, circuit and cardiovascular training. This hour long class will give you, your muscles and fitness a wide variety of movements. A varied session that will keep your fitness guessing, but well set out for beginners as well as experienced class members.
Fullbody Bootcamp
Delivering all-round fitness, strength, toning and cardio in an hour long session. The trainer will set out a class that will target all muscles groups aerobic fitness and ability, power, movement and flexibility through a mixture of high intensity interval, circuit and cardiovascular training. The class is structured in a way that will engage and challenge all participants no matter what your own individual fitness level.
Boxercise
This boxing class is designed to challenge participants through a range of boxing techniques and punches combined with cardiovascular and core strength training for an all round workout. Participants learn a few basic punches and combinations, which are incorporated with other exercises such as squats, lunges and push-ups so that you increase your fitness and strength to promote body fat loss.
Circuit
This class uses strength training machines, bodyweight and free weight exercises, treadmills, bikes and other cardio equipment. Circuit training is designed so that you can maximise your results in a shorter period of time. You work on one exercise for a period of time, have a minimal rest period and then move onto the next exercise. This class is great for combining all forms of fitness in one session.
Strength
Focussing on weights to improve your body composition. If you are looking to lose weight, build muscle, tone up or increase power this session is for you. By increasing your overall muscle mass you will burn more energy, look more toned and feel stronger and more confident within yourself. A definite session for women and men to balance with cardio workouts to get the fitness and body you are wanting.
Cardio Club
A session to get the heart and lungs pumping to build your aerobic fitness and ability. A low to medium intensity session that uses our oxygen burning energy system to poweer the body through an hour long session. It's not just about treadmills though, we have recumbent and spin bikes, rowers and ARC trainers to suit everyone. We don't forget about the upper body either, it's a full body workout to build your endurance and improve your fitness and help with weight loss. All fitness levels catered for, a great class for all abilities.
Pop-up Class - Trainer's Choice
This class is Trainers Choice for an hour! We have had many different styles of classes over the years and this is an opportunity for our trainers to enjoy some of those styles again. You can expect a great workout which will get a sweat up and cover strength and cardio exercises, but the how is the exciting bit…you will just have to come along to find out what will happen this week! This class is completely trainer choice each week to keep classes feeling fresh, exciting and is a great change for our regular class goers.
If you have any troubles, please call reception on 5545 4774